How can I buy weed online near Kansas City?
Medical cannabis is legal in Missouri, if you get a medical cannabis prescription you can shop in a Show Me State dispensary. To help you get cannabinoids at home, we have partnered with hempshop an online dispensary that can ship flower, vapes, and edibles with both Delta-8 and Delta-9 THC and CBD.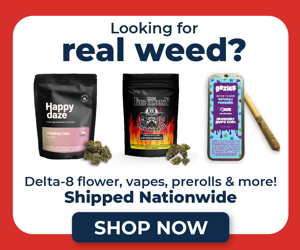 What steps do I need to take to get medical marijuana in Missouri?
Here's the most convenient and reasonably-priced option that we have found for same day online evaluation: Get Your Missouri Medical Cannabis Card. You will pay $129 only if you successfully receive a Missouri prescription for medical marijuana - MMJ.
Missouri does not recognize the medical cannabis ID cards produced by other states.
What conditions qualify for medical marijuana in Missouri?
Alzheimer's disease (agitation related to)
Any terminal illness
Autism
Cancer
Crohn's disease
Chronic pain/neuropathy
Epilepsy
Glaucoma
Hepatitis C
HIV/AIDS or cachexia or wasting syndrome
Huntington's disease
IBS
Intractable migraines
Lou Gehrig's disease
Multiple Sclerosis
Opioid substitution
Parkinson's disease
PTSD or other "debilitating psychiatric disorders"
Tourette syndrome
Sickle cell anemia
Seizures
Any "other chronic, debilitating or other medical condition" that may be alleviated by marijuana "in the professional judgement of a physician"
What are the rules for getting a medical marijuana ID card in Missouri?
Be a resident of Missouri with a state ID to prove it.
Visit a licensed physician and obtain a certification.
Apply with the Missouri DHSS (Department of Health & Senior Services) including proof of residency, the certification from a doctor, a photo, $25
The state will let you know the status of your application within 30 days.
In Missouri there are roughly 122523 medical cannabis patients, as of Missouri Department of Health and Senior Services as of March 2021.
Beyond medical and recreational weed is home grown: Missouri says: patients may grow up to 6 flowering plants in a closed, locked facility.
Medical marijuana has been legal since 2018, 197 years after Missouri was admitted to the union in 1821. You could rally with other Missourians to open up Missouri cannabis laws and advocate for medical marijuana patient's rights in Jefferson City the capital some 150 miles away.
If I don't have a cannabis prescription, what are my options in Missouri?
There is medical cannabis here but no recreational cannabis yet in Missouri. We are partnering with local medical dispensary partners to list here. Since adult use recreational cannabis is not yet available for Missourians, if you want legal, lab-tested cannabis it's possible to drive somewhere from Kansas City and find some weed. Hopefully you can order cannabis online near you, or search for the best dispensary in neighboring-state cities like Little Rock, Chicago, Des Moines, Oklahoma City.
What is the best dispensary in Kansas City, Missouri?
The best dispensary near me in Kansas City could include BesaMe Wellness - Kansas City, Feel State - Kansas City, From The Earth Medical Marijuana Dispensary Brookside, From The Earth Medical Marijuana Dispensary Westside, From The Earth Medical Marijuana Dispensary Downtown, Greenlight - Bannister, Fresh Green Kansas City Dispensary, Terrabis - Kansas City, Nature Med - Vivion , Fresh Karma - Midtown, Liberty Kansas City, Local Cannabis Company, Terrabis - Kansas City. We've published a list of the best dispensaries in Missouri.
Why would someone in Kansas City, MO order cannabis pickup from a dispensary?
Ordering cannabis online in advance near Kansas City is a good way to find what you want, reserve your selections, and pick them up quick. Pickup is a free service and you pay for your order at the dispensary. Probably faster and more legal than flying product in to Kansas City International Airport (originally Mid-Continent International Airport) aka MCI.
People in these local zip codes could be searching for a dispensary to pick up pot: 64161 64163 64165 64167 64053 64151 64153 64155 64154 64157 64156 64158 64108 64109 64102 64106 64105 64101 64128 64129 64124 64125 64126 64127 64120 64123 64164 64166 64192 64119 64118 64114 64117 64116 64111 64110 64113 64112 64132 64130 64146 64145 64149 64147 64139 64138 64133 64131 64137 64136 64134 64121 64141 64148 64162 64170 64171 64179 64180 64184 64187 64188 64191 64195 64196 64197 64198 64199 64999. Also folks in Jackson County, including Kansas City, Independence, Lee's Summit, Blue Springs, Raytown, Grandview, Grain Valley buy weed online.
What kinds of products could I find at a dispensary near me in Kansas City?
In Missouri you'll find a number of cannabis brands including Wana.
Dispensaries in Missouri carry a range of cannabis product types so you might find a tincture, pet tincture, bath, gummies, vape cartridge, flower, preroll, chocolate bar, chocolates, vape pen, gummy, , vape battery, soft gels, cream, capsule, beverage, soda, water, edible.
Cannabis might be healthier for you than a cocktail like a "bora bora" made with pineapple juice.
Can seniors and veterans get a discount on Kansas City weed?
According to recent census data for Missouri, 18.8% of people in Kansas City are aged 60 or over, less than the 22.7% aged 60 and up nationally. Weed delivery near me in Kansas City is especially helpful for those with limited mobility. And also according to recent census data, 6.7% of people are veterans, less than the roughly 7% in the overall population. Different dispensaries are going to have different discounts you can discuss during pickup checkout.
What should I order for my first time in Kansas City, Missouri?
The highest point of elevation in Missouri is Taum Sauk Mountain, 292 miles from Kansas City - you might not want to get that high your first few times and overhear the state bird, a Eastern Bluebird conversing with an Alluaudias. We have a FAQ giving basic product recommendations for beginners to help you dose right in KCMO.
If I find a cannabis dispensary near me in Kansas City, what next?
Once you found a dispensary to order weed online, and you get your product, you might try some of these activities:
enjoy that plant life at the Ewing and Muriel Kauffman Memorial Garden.
welcome people arriving at MCI Kansas City International Airport (originally Mid-Continent International Airport).
listen to some stories or tell your own to the older folks at Leona House, Benton House of Staley Hills, Benton House of Tiffany Springs, Benton House of Shoal Creek, Beacon Hill Residential Care, Carrie Dumas Long Term Care Facility, Myers Nursing & Convalescent Center, Glennon Place Nursing Center, Linden Woods Village, Maple Wood Care Center, Carondelet Manor, Mccrite Plaza at Briarcliff Assisted Living, Bishop Spencer Place, Inc, the, Rockhill Manor Assisted Living, Blessed Homes, Gregory Ridge Living Center, Parkway Health and Rehab, Brook Chateau, Seasons Care Center, Jeanne Jugan Center, Hidden Lake Care Center, Waterford South, Blue River Rehabilitation Center.
track down Momo (Missouri Monster).
seek out a local DEA Drug Enforcement Agency representative and ask them about their 2020 record in Missouri: 485 plants destroyed, 250 pounds of marijuana impounded, 0 arrests, $0.00 seized.
trust but verify our data sources by visiting Missouri Medical Marijuana Law on NORML, US Census Data, and US Geography data on Wikipedia
What is bud.com?
bud.com is here to help you find trusted cannabis products near you. We partner with local dispensaries to make leading brands available for easy online ordering for delivery and in-store pickup where available: hopefully soon to you in Kansas City. We work with hempshop, an online dispensary for shipping legal weed products. We offer these weed maps above for you to find high times with eaze. We are a small group of cannabis and tech enthusiasts who have been fortunate to be able to help people buy weed online during the decline of prohibition. Greetings Jackson County in Missouri: bud.com is a benefit corporation headquartered in the San Francisco Bay Area of California. You can learn more about bud.com from our blog, our press coverage, or our FAQ.
If you're looking for hemp-derived wellness and psychoactive products by mail, hempshop ships Delta 8, Delta 9 THC and CBD to Missouri.
How can I get my Kansas City, Missouri dispensary listed on bud.com?
The 2019 population of Kansas City was estimated at 1636715. The largest cities in Missouri are ranked Kansas City, St. Louis, Springfield, Columbia, and Independence. We count at least 131 dispensaries in Missouri. Visit our dispensary partners page to learn about working with bud.com.