How can I buy weed online near Chicago?
Illinois allows recreational cannabis sales to adults 21 and over. Illinois state residents have been buying recreational cannabis since Wednesday, January 1, 2020, so there should be a dispensary somewhere near you in Chicago. To help you get cannabinoids at home, we have partnered with hempshop an online dispensary that can ship flower, vapes, and edibles with both Delta-8 and Delta-9 THC and CBD.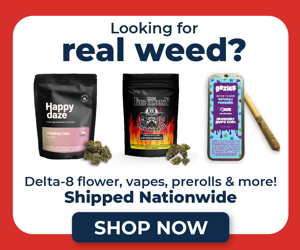 If Illinois has recreational cannabis and medical marijuana, what's the difference?
Cannabis flower and product for the medical and recreational markets are essentially the same. The difference lies in the amount of cannabis that can be purchased and dosage associated.
How can I get a medical marijuana prescription in Illinois, a recreational state?
Here's the most convenient and reasonably-priced option that we have found for same day online evaluation: Get Your Illinois Medical Cannabis Card. You'll pay $189 only if you come out with a successful medical cannabis prescription.
What is the best dispensary in Chicago, Illinois?
The best dispensary near me in Chicago could include Columbia Care IL, Maribis of Chicago, MedMar - Lakeview, Midway Dispensary, Mission Illinois, MOCA | Modern Cannabis Ascend, Zen Leaf, The Herbal Care Center, nuEra - Wicker Park, Dispensary 33, Zen Leaf Rogers Park, Consume Cannabis Co - Chicago, Ascend Midway, Mission South Chicago, Sunnyside Cannabis Dispensary - Wrigleyville, Ascend Logan Square, Cannabist Chicago [ Medical ], Ascend River North, Cannabist Chicago [ Adult-Use ], Curaleaf Weed Street, Dispensary 33, Sunnyside Cannabis Dispensary - River North, Verilife - River North, Maribis of Chicago, Zen Leaf West Loop, Nature's Care West Loop. We've published a list of the best dispensaries in Illinois.
Why would someone in Chicago, IL order cannabis pickup from a dispensary?
Ordering cannabis online in advance near Chicago is a good way to find what you want, reserve your selections, and pick them up quick. Pickup is a free service and you pay for your order at the dispensary. Probably faster and more legal than flying product in to Chicago O'Hare International Airport aka ORD.
People in these local zip codes could be searching for a dispensary to pick up pot: 60018 60649 60641 60640 60643 60642 60645 60644 60647 60646 60616 60617 60614 60615 60612 60613 60610 60611 60618 60619 60827 60638 60639 60634 60636 60637 60630 60631 60632 60633 60605 60604 60607 60606 60601 60603 60602 60609 60608 60106 60661 60660 60659 60652 60653 60651 60656 60657 60654 60655 60623 60622 60621 60620 60626 60625 60624 60629 60628 60707 60499 60664 60666 60668 60669 60670 60673 60674 60675 60677 60678 60680 60681 60682 60684 60685 60686 60687 60688 60689 60690 60694 60695 60696 60699. Also folks in Cook County, including Chicago, Cicero, Arlington Heights, Evanston, Schaumburg, Palatine, Skokie, Des Plaines, Orland Park, Tinley Park, Oak Lawn, Berwyn, Mount Prospect, Oak Park, Hoffman Estates, Glenview, Bartlett, Buffalo Grove, Streamwood, Wheeling, Park Ridge, Calumet City, Northbrook, Elk Grove Village, Chicago Heights, Niles, Burbank, Lansing, Oak Forest, Wilmette, Melrose Park, Harvey, Elmwood Park, Rolling Meadows, Maywood, Blue Island, Morton Grove, Dolton, South Holland, Park Forest, Matteson, Evergreen Park, Alsip, Homewood, Bellwood, Brookfield, Franklin Park, Lemont, Palos Hills, Country Club Hills, Westchester, Bridgeview, Prospect Heights, La Grange, Midlothian, Norridge, Chicago Ridge, Hickory Hills, Forest Park, Hazel Crest, Western Springs, Richton Park, La Grange Park, Riverdale, Justice, Palos Heights, Winnetka, Markham, Lincolnwood, Northlake, Schiller Park, Summit, River Forest, Crestwood, Worth, Lyons, Sauk Village, Barrington, Posen, Rosemont buy weed online.
What kinds of products could I find at a dispensary near me in Chicago?
In Illinois you'll find a number of cannabis brands including Kiva Confections, Mary's Medicinals, Wana, Pax, Cresco, Bhang, CANN, Vibes.
Dispensaries in Illinois carry a range of cannabis product types so you might find a , chocolates, gummy, syrup and mix, mint, sweet, gummies, chocolate bar, vape cartridge, live resin vape cartridge, tincture, vape battery, sauce, diamonds, accessory, live resin sugar, patch, topical roll on, lotion, soft gels, capsule, other, vape pen, preroll, airopro vape cartridge, pax era vape pod, flower, budder, live resin, wax, live sauce, live sugar, dab rig, dab gear, vaporizer, bong, lozenge, infused preroll, soda, water, shot, pipe, grinder, supplies, rolling tray, oil rig, flower littles smalls, flower shake trim, flower ground, rolling papers, cones, lighter.
The US Behavioral Risk Factor Surveillance System found 22% of adults in Cook County reported binge or heavy drinking in 2018. Cannabis might be healthier for you than a cocktail like a "69 special" made with gin.
Can seniors and veterans get a discount on Chicago weed?
According to recent census data for Illinois, 17.6% of Chicagoans are aged 60 or over, less than the 22.7% aged 60 and up nationally. Weed delivery near me in Chicago is especially helpful for those with limited mobility. And also according to recent census data, 3.2% of people are veterans, less than the roughly 7% in the overall population. Different dispensaries are going to have different discounts you can discuss during pickup checkout.
What should I order for my first time in Chicago, Illinois?
The highest point of elevation in Illinois is Charles Mound, 156 miles from Chicago - you might not want to get that high your first few times and overhear the state bird, a Cardinal conversing with an Acuna's Epidendrum. We have a FAQ giving basic product recommendations for beginners to help you dose right in The Windy City.
If I find a cannabis dispensary near me in Chicago, what next?
Once you found a dispensary to order weed online, and you get your product, you might try some of these activities:
join us in acknowledging the ancestral and unceded territory of the Potawatomi, Odawa, and Ojibwe Nations. This land also served as a meeting place for Miami, Ho-Chunk, the Menominee, Inoka, Sac, Fox, Peoria, Arapaho, Cheyenne and other Tribal nations.
enjoy that plant life at the Garfield Park Conservatory.
welcome people arriving at ORD Chicago O'Hare International Airport.
listen to some stories or tell your own to the older folks at Asbury Court, Villa at Windsor Park, the, Elston Nursing & Rehab Centre, Bethany Home, Smith Village, Glencrest Hlthcr & Rehab Ctre, Jackson Sq Skl Nrsg & Living, Squire's Sheltered Care Home, Peterson Park Health Care Ctr, Southview Manor Nursing Center, Colfax Manor Assisted Living, Grove Lincoln Park Lvg & Rehab, Carlton at the Lake, the, Warren Barr Pavilion, Terraces at the Clare, St Paul's House & Hlth Cr Ctr, Central Nrsg & Rehab Center, Our Lady of the Resurrection, Montgomery Place, Fairmont Care Centre, Presence Resurrection Retirement, Renaissance at Midway, River Oaks Hlthcare Rehab Ctr, Dl Comprehensive Healthcare, Inc., International Nrsg & Rehab Ctr, California Gardens N & Rehab C, Bridgeway Chr Vlg Rehab & Snf, Sheridan Shores Cr & Rehab Ctr, Astoria Place Living & Rehab, Renaissance at 87Th Street,the, Community Care Center, Belmont Nursing Home, Mercy Circle, Park House Nursing & Rehab Ctr, Center Home Hispanic Elderly, Alden Princeton Rehab & Hcc, Forest Edge Hlthcare Rehab Ctr, Lakefront Nursing & Rehab Ctr, Balmoral Home, Autumn Green at Midway Village, Renaissance Park South, Elmwood Care.
track down The Enfield Horror.
seek out a local DEA Drug Enforcement Agency representative and ask them about their 2020 record in Illinois: 1515 plants destroyed, 27 pounds of marijuana impounded, 10 arrests, $0.00 seized.
trust but verify our data sources by visiting Illinois Medical Marijuana Law on NORML, US Census Data, and US Geography data on Wikipedia
What is bud.com?
bud.com is here to help you find trusted cannabis products near you. We partner with local dispensaries to make leading brands available for easy online ordering for delivery and in-store pickup where available: hopefully soon to you in Chicago. We work with hempshop, an online dispensary for shipping legal weed products. We offer these weed maps above for you to find high times with eaze. We are a small group of cannabis and tech enthusiasts who have been fortunate to be able to help people buy weed online during the decline of prohibition. Greetings Cook County in Illinois: bud.com is a benefit corporation headquartered in the San Francisco Bay Area of California. You can learn more about bud.com from our blog, our press coverage, or our FAQ.
If you're looking for hemp-derived wellness and psychoactive products by mail, hempshop ships Delta 8, Delta 9 THC and CBD to Illinois.
How can I get my Chicago, Illinois dispensary listed on bud.com?
The 2019 population of Chicago was estimated at 8604203. The largest cities in Illinois are ranked Chicago, Aurora, Naperville, Joliet, and Rockford. We count at least 94 dispensaries in Illinois. Visit our dispensary partners page to learn about working with bud.com.