Las Vegas is finding its groove in the legalized pot business, with thirty-two dispensaries and counting. How fitting, then, that it's also one of the most bizarre, aggressively fun-filled, and foodiest cities in the world. In other words, it's a great place to be high. Need some ideas for how to build your blunt-fueled adventures in Sin City? Come along.
Choose your den of iniquity
When it comes to finding a home base in Las Vegas there are so many options. You can easily find a hotel rate of $50 a night – just check your favorite travel deal site, and remember many hotels charge an added resort fee in the neighborhood of $30/night. And if you're picky (I'm picky), and willing to spend a bit more, there are some pretty great options you should consider.
Located right on the Strip, The Cosmopolitan is all about exhibition. From electronic art encasing the lobby support beam to a number of interesting (and noteworthy) art collections on display throughout the property. The Cosmo is also home to the Wicked Spoon buffet, recently named Vegas' best by The Las Vegas Review Journal, and the Juice Standard, one of just two juice bars on the strip. They also have a rather swanky casino, complete with high roller rooms and lots of fancy chandeliers. Honestly, I could just hang out and look at their chandeliers for a while, except they pump some stanky fragrance through the place 24/7. This is a theme with most strip hotel/casinos, so be prepared.
If you're looking for a more retro experience, try staying off-strip in Downtown Las Vegas (which is way more chill, if also a bit seedier), then look into one of the themed "Design-a-suites" at the El Cortez, which range from old-school glam to vintage rec room; all with deep soaking tubs. Then head downstairs for some prime rib and a baked potato, and pretend you're back in 1950, living the American Dream. They, too, have a Casino (that's why their rooms are so cheap). I'm not a big gambler, but this is apparently a good one that has won some awards.
There are also a ton of AirBnB rentals in Las Vegas, at reasonable rates (especially if you want to share with friends). Many have pools but be forewarned: most private residences (and some hotels) don't heat their pools in the winter, as it would be prohibitively expensive. There's some science there, around the rate of evaporation and the way dry air doesn't hold heat, yada yada. I don't know. Just don't count on a pool in cooler months without checking into it first.
Las Vegas is for art-enthusiasts
There's an enormous amount of art in Las Vegas, from big-name masters housed in some of the fancier hotels, to incredible street art downtown, to the talented artists selling their creations up and down the strip. Wherever your ramblings take you, just keep your eyes open and you'll see creativity everywhere, I promise. Of course, there are a few sure bets.
Meerkats by Bordalo II, created for Life is Beautiful 2015, found on Fremont Street.
If you're a fan of urban art, take a walk down Fremont Street. There's some incredible work there, thanks in part to the Life is Beautiful festival which, aside from musical acts, hosts dozens of artists from all over the world (we're talking Shepard Fairey, Amanda Parer, Banksy, and more). Each year, these talented artists transform the streets of Downtown Vegas with highly imaginative, impressive artwork. Start at the corner of Fremont and 11th street, and just walk toward downtown. You'll see strangely beautiful, larger-than-life Meerkats crafted out of salvaged junk, full-sized tanker trucks fused together, one performing a graceful balletic lift of the other, beautiful yet disturbing murals, and so much more. You'll also see some hilarious marquis signs… the origins of which remain a mystery to me.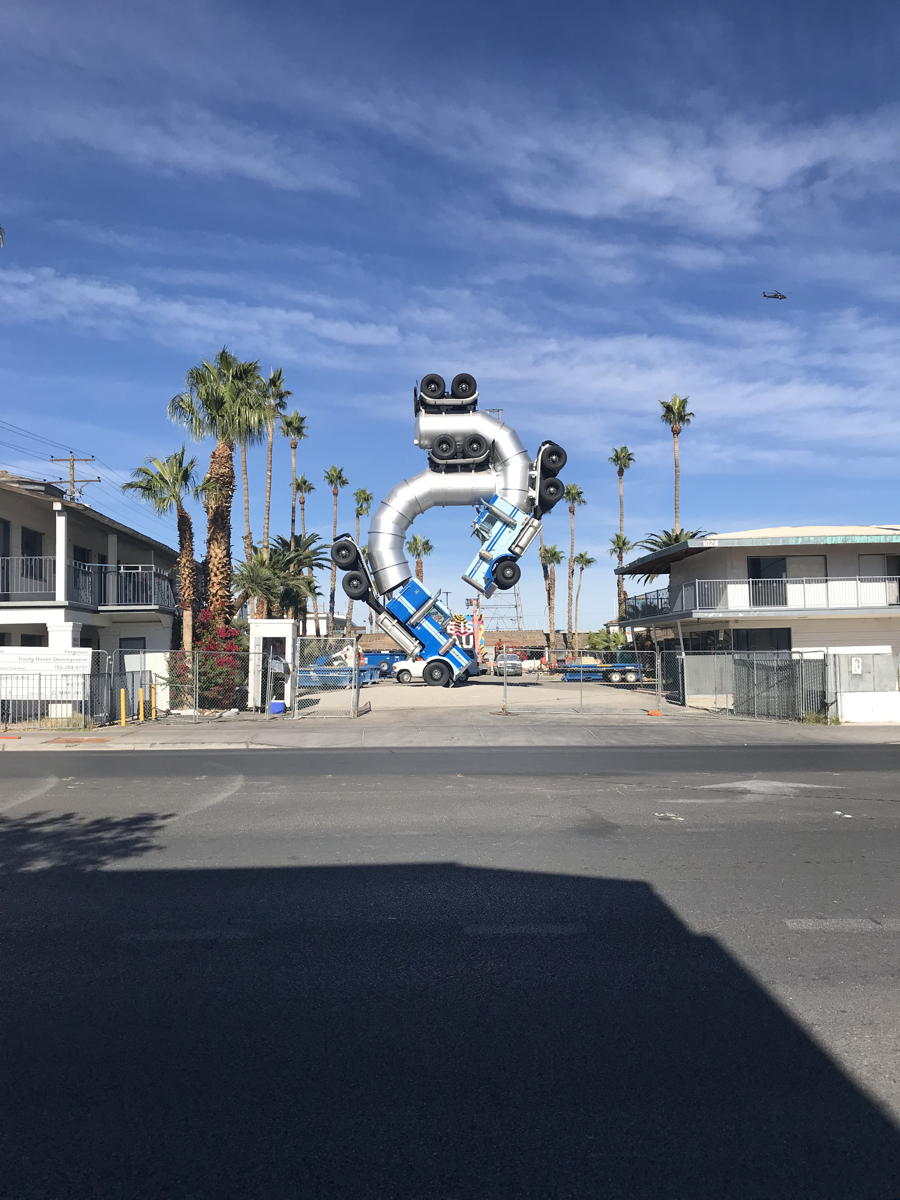 Big Rig Jig by Mike Ross, installed 2016, found on Fremont Street.
If you like your art more curated, head over the Neon Museum of Las Vegas, final resting ground for more than 200 fabulous Vegas signs. They offer daytime, evening, and late-night tours for $19-28. They do host the occasional private party, so I recommend you call ahead.
Head back to the strip for artist James Turrell's exhibit – which is really two giant pieces commissioned by Louis Vuitton and housed on the third story of their luxury store, smack-dab on the strip. These works, called Akhob, were inspired by the famous artist's early years as a pilot. He experienced the Ganzfeld effect when the horizon disappeared and he became immersed in a field of color. Turrell wanted to recreate that sensation for visitors by bathing them in continuous color. Visitors must enter sans shoes, in groups of just six at a time. Make sure to plan ahead for this one. While free, visits require reservations and they're currently booking two to four weeks in advance. There's no website, so just give them a call at (702) 730-3150.
Pricier Las Vegas indulgences, in case you want to treat yo' self
There's no shortage of ways to blow through cash in Las Vegas, but these are a few of my favorites.
Want to escape from the crowds and just sink into a hot tub for a while? Most Vegas spas offer a day pass for $30-50, so you can enjoy the cucumber water, hot tub(s), spa pool, fluffy towels, etc. for as long as you want. Some stand-out spas that offer day passes include Espa at Vdara, Qua at Caesars, and the Spa at Canyon Ranch. It's also worth checking discount sites like Groupon or Travelzoo, which almost always have a half-off Vegas spa treatment or two. Once you buy the treatment, the access pass is included.
A bit more varsity-level: go float yourself in a sensory deprivation tank—a soundproof pod where you can experience a feeling of weightlessness in highly salinized, body-temperature water—and just let your mind go. There are a ton of options in Vegas but, being mildly afraid of the full contents of my own mind, I've never tried any of them myself. The tanks at NV Float seem to be highly regarded. Sessions start at $110 per hour.
Cirque de Soleil has become a permanent fixture in Las Vegas and if you haven't seen a show yet, you should. Unlike traditional circus acts they forgo the use of animals and kitschy acts, instead highlighting the strength and grace of the performers through incredible choreography and acrobatics, heightened by over-the-top production effects, and live music that will seriously transport you to the world they've created. KÀ and O are the most stoner-endorsed shows to see. Tickets start at $55.
Let's stuff our faces in Las Vegas
Eating in Sin City has become almost as big a draw as gaming. From strip-mall ethnic cuisine to big-name chefs, they have it all. Here are a number of offerings that are worth a try.
Off-strip in the gritty-is-beautiful Arts District, Rebar has my vote for coolest place to hang out and get grub. Its offerings are pretty standard dive-bar fare (cheap drinks, giant hot dogs, pretzels), but it's all served up in a convivial atmosphere with local color. The thrift store furnishings and décor (everything is for sale) give it a homey feel that will make you want to stay all day. And you can. Grab one of their board games. Chat with the locals. And enjoy their backyard smoking patio. It's a gem.
Behold the wall of candy at the M&M store. Every flavor you could possibly want (and then some).
So, from down-to-earth right back to the supremely absurd: I'm talking about the M&Ms Store—four stories of candy and tacky merchandise. Most of the store is pretty much what you'd expect, and I am personally not a fan of the anthropomorphized M&M characters which appear on just about everything. But listen, there's an entire wall full of bulk M&M candy, in every color and every single flavor, including some wacked out ones like peppermint, cherry, coffee-nut, birthday cake, and more. My personal favorite are the peanut butter M&Ms. And if you're not as creeped out by the characters as I am, there's a free 3D movie showing every hour.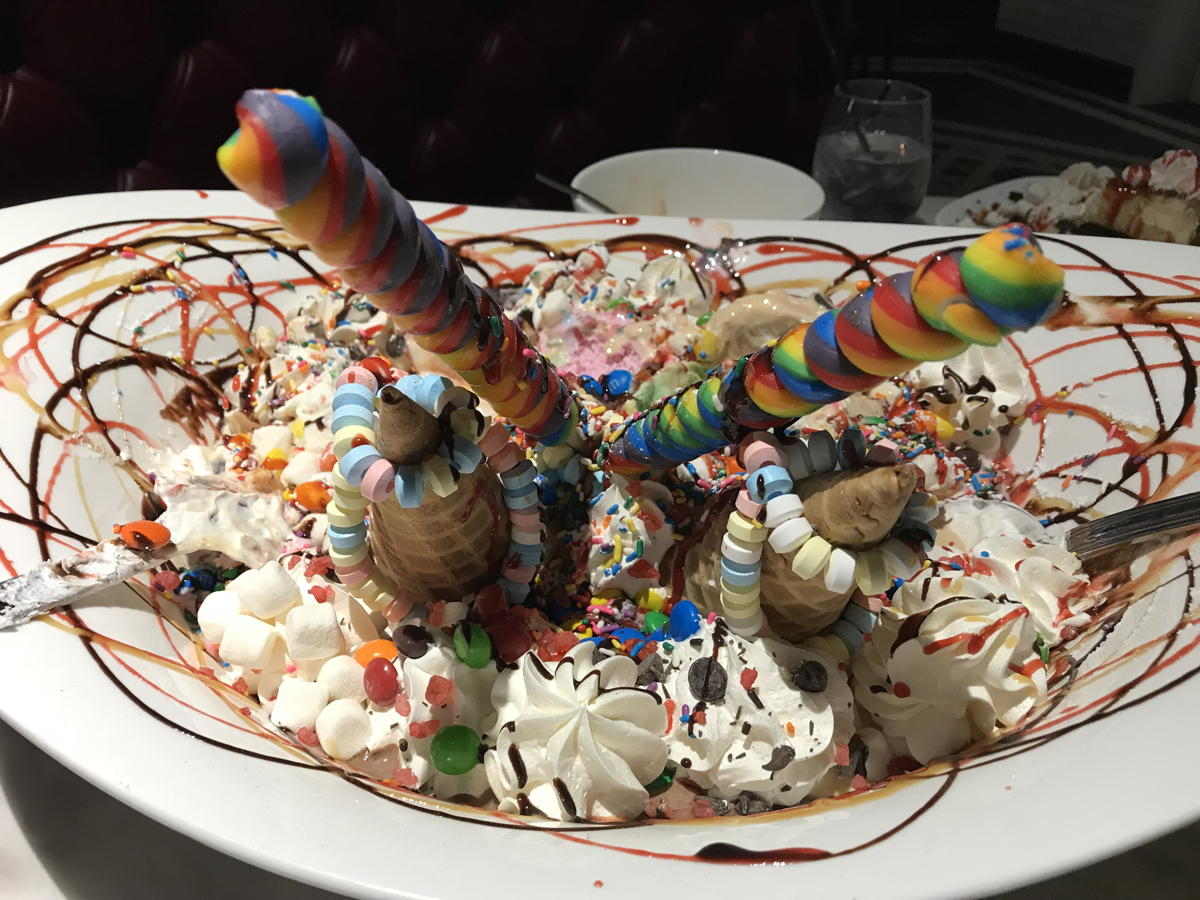 The "King Kong" sundae at Sugar Factory. Its arrival includes dim lighting, lit sparklers, and clapping staff.
Sticking with sweets for now, you can get your ridunculous dessert fix at Sugar Factory, where over-the-top milkshakes laden with bruléed marshmallows, candy necklaces, and gummy worms will give you the giggles. This place was designed more for Instagram than your palate, but's worth it for the experience. And adding booze to the milkshakes helps immensely.
If you're looking for a more grown-up meal, I seriously recommend Emeril's New Orleans Fish House. I know it sounds like something your parents might like, and you have to walk through a casino to get there, but once your journey is complete you shall be rewarded. The food is New Orleans-inspired, so it's spicy and comforting and DELICIOUS. The shrimp, the frog legs, the sliders… and if you still have room, the bigger-than-your-face banana cream pie. All of it is seriously good. The wine and cocktails are also spot-on, with a cold-pressed coffee old-fashioned that managed to wake me up and even out my buzz all at once. But what makes this place truly stoner-friendly is the atmosphere. The walls are sort of a subdued orangey yellow and they keep the lighting soft so you feel like you're ensconced in honey. The music is equally chill. They were playing Dark Side of the Moon when I visited.
Also worth noting, though I haven't been: off-strip there lies one of the most highly rated Thai restaurants in the country: the Lotus of Siam. The restaurant was a surprise hit, starting out in a nondescript strip mall space which left only recently, when the aging roof was damaged beyond repair. Recently rehoused and reopened, the restaurant serves up Northern Thai dishes that have been lauded by everyone from The Food Network to the James Beard Foundation.
When it comes to meeting your late-night munchies needs, I personally can't imagine better than Taco Bell, and the Taco Bell Flagship Cantina is smack dab on the Las Vegas strip. Arrive on the right night and you'll find a live DJ spinning from the upstairs booth. There's a more relaxed outdoor patio, a wall of slushy concoctions—that you can order by the foot and add booze to—and, of course, there's merchandise like taco hats and shirts. But for me the real attraction is the "Mexican-inspired" food, like crunchy double deckers, melty gorditas, and so on. Once I honestly ate there three times within 24 hours.
Notes on getting stoned in the City of Las Vegas
As with so much cannabis legislation, Las Vegas laws around marijuana are still a bit tricky. It's legal to buy, but the only legal place to smoke or eat your weed is in a private home. Not in your hotel, your car, or on public streets.
Now, I did see plenty of people smoking openly, including friends who've never been hassled by cops. But be aware that smoking in the wrong place can net you a $600 ticket, or even get you kicked out of your hotel. Be smart, have fun, and come home happy.
Grace is a writer and content strategist based in Burlington, Vermont, and is lucky enough to write about the things she loves: her children, humor, food, travel, and the natural wonders of marijuana. Connect at @graceperlee.