How can I buy weed online near Bonita Springs?
Medical cannabis is legal in Florida, if you get a medical cannabis prescription you can shop in a Sunshine State dispensary. To help you get cannabinoids at home, we have partnered with hempshop an online dispensary that can ship flower, vapes, and edibles with both Delta-8 and Delta-9 THC and CBD.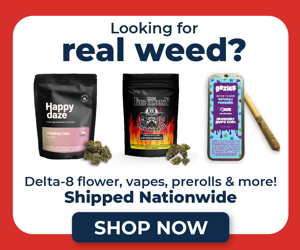 What steps do I need to take to get medical marijuana in Florida?
Florida does not recognize the medical cannabis ID cards produced by other states.
What conditions qualify for medical marijuana in Florida?
ALS
Cancer
Crohn's disease
Chronic nonmalignant pain*
Epilepsy
Glaucoma
HIV/AIDS
Multiple sclerosis
Parkinson's disease
PTSD
Seizures
Terminal illness (patients diagnosed with no more than 12-months to live)
Other debilitating medical conditions comparable to those enumerated
*Defined as "pain that is either caused by or originates from a qualifying medical condition"
What are the rules for getting a medical marijuana ID card in Florida?
Realize you are a permanent or temporary resident of the state of Florida: armed with an in-state ID, or mortgage, lease agreement, utility bill or deed for a seasonal resident.
Find a Florida doctor qualified to prescribe cannabis. You can search for 420-friendly physicians on the Florida Department of Health website. You must meet with them in-person.
Get diagnosed with a qualifying medical condition (see below). If you're younger than 18 or terminally ill, you need a second physician to confirm.
Physicians then endorse your application you must submit with proof of residency, identification photo and $75 to the state registry.
If your application is approved, you can shop at licensed medical marijuana shops.
In Florida there are roughly 600132 medical cannabis patients, according to the Florida Office of Medical Marijuana Use, as of August 2021.
Beyond medical and recreational weed is home grown: Florida says: no legal homegrow.
Medical marijuana has been legal since 2016, 171 years after Florida was admitted to the union in 1845. You could rally with other Floridians to open up Florida cannabis laws and advocate for medical marijuana patient's rights in Tallahassee the capital some 372 miles away.
If I don't have a cannabis prescription, what are my options in Florida?
There is medical cannabis here but no recreational cannabis yet in Florida. We are partnering with local medical dispensary partners to list here. Since adult use recreational cannabis is not yet available for Floridians, if you want legal, lab-tested cannabis it's possible to drive somewhere from Bonita Springs and find some weed. Hopefully you can order cannabis online near you, or search for the best dispensary in neighboring-state cities like Birmingham.
What is the best dispensary in Bonita Springs, Florida?
The best dispensary near me in Bonita Springs could include Trulieve - Bonita Springs, Cannabist Bonita Springs, Curaleaf - Bonita Springs, Liberty Health Sciences - Bonita Springs, RISE Dispensaries Bonita Springs, Sunnyside Medical Cannabis Dispensary - Bonita Springs, Surterra Wellness Center - Bonita Springs. We've published a list of the best dispensaries in Florida.
Why would someone in Bonita Springs, FL order cannabis pickup from a dispensary?
Ordering cannabis online in advance near Bonita Springs is a good way to find what you want, reserve your selections, and pick them up quick. Pickup is a free service and you pay for your order at the dispensary.
People in these local zip codes could be searching for a dispensary to pick up pot: 33931 34134 34135. Also folks in Lee County, including Cape Coral, Bonita Springs, Lehigh Acres, Fort Myers, North Fort Myers, Estero, San Carlos Park, Iona, Villas, Cypress Lake, Gateway, McGregor, Sanibel, Fort Myers Beach, Fort Myers Shores, Whiskey Creek, Pine Manor buy weed online.
What kinds of products could I find at a dispensary near me in Bonita Springs?
In Florida you'll find a number of cannabis brands including Mary's Medicinals, STIIIZY.
Dispensaries in Florida carry a range of cannabis product types so you might find a gummy, , vape cartridge, live resin vape cartridge, syrup and mix, tincture, vape battery, sauce, diamonds, accessory, cliq vape pod, live resin sugar, patch, topical roll on, lotion, soft gels, capsule, other, stiiizy vape pod, flower, preroll, badder, live resin, live sauce, live rosin, vape pen, infused preroll, live resin badder.
The US Behavioral Risk Factor Surveillance System found 23% of adults in Lee County reported binge or heavy drinking in 2018. Cannabis might be healthier for you than a cocktail.
Can seniors and veterans get a discount on Bonita Springs weed?
According to recent census data for Florida, 48.8% of people in Bonita Springs are aged 60 or over, more than the 22.7% aged 60 and up countrywide. Weed delivery near me in Bonita Springs is especially helpful for those with limited mobility. And also according to recent census data, 10% of people are veterans, more than the roughly 7% in the overall population. Different dispensaries are going to have different discounts you can discuss during pickup checkout.
What should I order for my first time in Bonita Springs, Florida?
The highest point of elevation in Florida is Britton Hill, 513 miles from Bonita Springs - you might not want to get that high your first few times and overhear the state bird, a Mockingbird conversing with a Bosc's Bottle-brush Black Coral. We have a FAQ giving basic product recommendations for beginners to help you dose right.
If I find a cannabis dispensary near me in Bonita Springs, what next?
Once you found a dispensary to order weed online, and you get your product, you might try some of these activities:
listen to some stories or tell your own to the older folks at Kiva at Canterbury, Inspired Living at Bonita Springs.
track down Skunk Ape.
seek out a local DEA Drug Enforcement Agency representative and ask them about their 2020 record in Florida: 433 plants destroyed, 248 pounds of marijuana impounded, 5 arrests, $114,151.00 seized.
trust but verify our data sources by visiting Florida Medical Marijuana Law on NORML, US Census Data, and US Geography data on Wikipedia
What is bud.com?
bud.com is here to help you find trusted cannabis products near you. We partner with local dispensaries to make leading brands available for easy online ordering for delivery and in-store pickup where available: hopefully soon to you in Bonita Springs. We work with hempshop, an online dispensary for shipping legal weed products. We offer these weed maps above for you to find high times with eaze. We are a small group of cannabis and tech enthusiasts who have been fortunate to be able to help people buy weed online during the decline of prohibition. Greetings Lee County in Florida: bud.com is a benefit corporation headquartered in the San Francisco Bay Area of California. You can learn more about bud.com from our blog, our press coverage, or our FAQ.
If you're looking for hemp-derived wellness and psychoactive products by mail, hempshop ships Delta 8, Delta 9 THC and CBD to Florida.
How can I get my Bonita Springs, Florida dispensary listed on bud.com?
The 2019 population of Bonita Springs was estimated at 421291. The largest cities in Florida are ranked Jacksonville, Miami, Tampa, Orlando, and St. Petersburg. We count at least 248 dispensaries in Florida. Visit our dispensary partners page to learn about working with bud.com.