Cypress Hill have been telling stories from the streets & frontiers of the mind for decades. A string of huge hit rap records erupted from West Coast stars B-Real, Sen Dog, DJ Muggs, and Eric Bobo: Cypress Hill spat rhymes as warriors and cannabis evangelists.
Now after eight years they have a new studio album, Elephants on Acid. If you watch the video for the first single "Crazy" starting at 1:25, you can see a crystal glass skull held aloft by B Real as he cruises a psychographic universe from a large brown recliner:
B Real holds aloft a crystal glass skull packed with fine cannabis in the video for Crazy from Cypress Hill's new album Elephants on Acid
bud.com is proud to be the exclusive delivery provider for Cypress Hill's crystal skull with a quarter ounce of fire California cannabis. The skull is topped with a black bucket hat, and that bucket hat is child-resistant:
Zookies quarter in a Cypress Hill collectible crystal skull jar
In addition Cypress Hill has figured out how to serve weed in a cassette: the Cypress Hill pre-rolls are top shelf Mendo Breath rolled in cones, in a collectible metal cassette case stash box.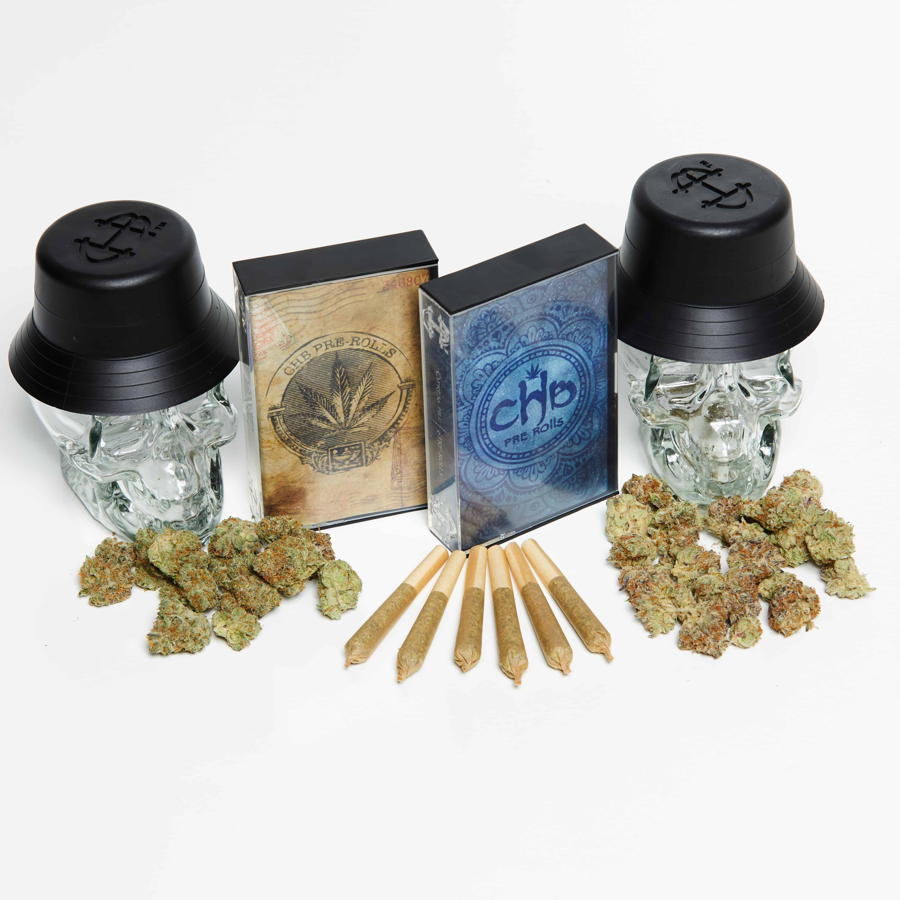 present CHB crystal skull quarter-ounces and cassette-tape prerolls
All these products are more are listed on the CHB Cypress Hill Bhang site on bud.com - see if we can deliver to your area.
Back in the day we picked seeds from our bong hits on top of our plastic Black Sunday CD cases. Cypress Hill accompanied many sessions as we were learning to appreciate cannabis and music. Now Cypress Hill has arranged to deliver quality cannabis to their fans across California through bud.com.
We sponsored a Cypress Hill record release party the same day we received a large wire transfer to confirm the first investment in our delivery platform. As the elephantine beats dropped, we raised a pre-roll in the air to celebrate, passing it over to musicians working to grow their business sharing things they love: music, weed, good company.
Chuck D from Public Enemy stands for a pic with Cypress Hill, as the 2018 bud logo looms over their right shoulders, and the bud.com founders stand off to their left