Aundre Speciale has surfed the wave of cannabis legalization from guerilla activism to recreational branding. Today she's Director of a number of California dispensaries, including bud.com delivery partners CBCB - the Cannabis Buyers Club Berkeley, Abatin in Sacramento, and LAPCG in in West Hollywood. And she's collaborated with some serious plant scientists to launch her own eponymous brand of top-shelf flower.
It was a long struggle for Speciale to arrive at this moment, including time spent as a single mom in poverty, and repeat confrontations with state and federal law enforcement. bud.com sits down to interview her on a brown chaise in the back of an apartment near the CBCB dispensary in Berkeley. On a stool next to her sits a short, clear, glass water pipe she periodically refills with fragrant, citrus-smelling cannabis: Lemon Crush. "It's what our amazing friends at Molecular Farm won the Emerald Cup with in 2017," she says.
Like hundreds of thousands of children in the United States, Speciale ended up in foster care from a young age. When we ask her how she got her start in cannabis, she explains: "I had been in group homes and was just pretty pissed off at the system, and met my neighbor, Jack Herer, and I felt like I got struck by lightning, literally."
Jack Herer (1939-2010) was an energetic evangelist for legal hemp and cannabis. His thoroughly-researched book, The Emperor Wears No Clothes, shared critical source material to, as Speciale says, "show what a racist, bullshit scam illegalization of cannabis was." Falling in with Jack Herer in 1990 meant living on the road, traveling from town to town with petitions, tabling with cannabis books and literature around the country, and "educating people about hemp for food, fuel, fiber, fun and medicine."
Speciale recalls when they were traveling together, Herer would go to Kinko's late at night because he said everyone that works there at that hour is a stoner. "And so we'd roll in with a petition and a joint, or half a joint or whatever we had. And this big bus that said 'Hemp Tour' on it, and dancing bears and pot leaves, and they'd print us a bunch of copies of the petition."
Working with Herer, Speciale developed a passion for street theater tactics to draw people in. She ended up in Sacramento where she volunteered with Americans for Safe Access (ASA). Founded in 2002, ASA took to the streets, battled in courtrooms, and lobbied in statehouses to bring legal cannabis to civil society.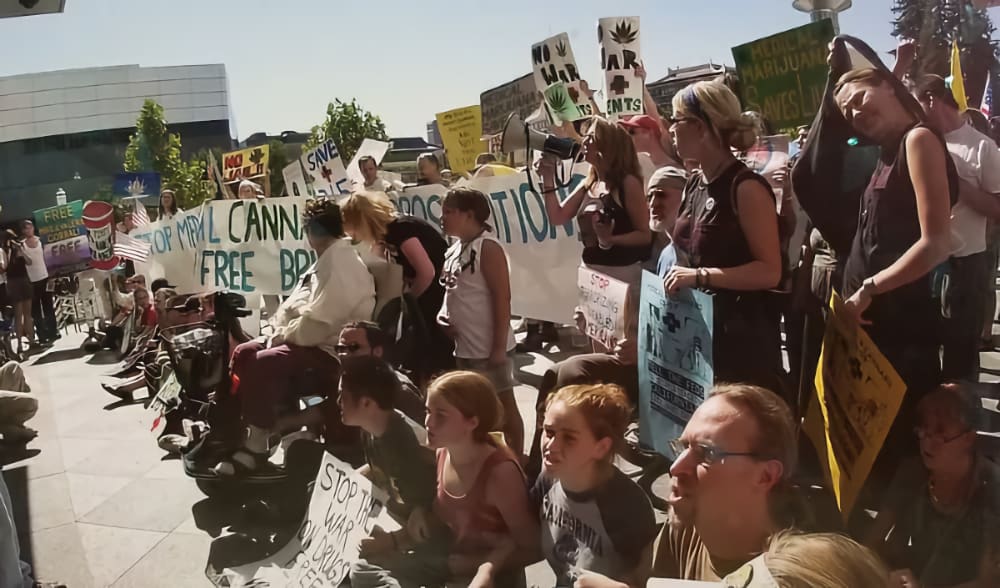 Speciale says for one of her protest actions, she donned a grey wig and blocked an intersection in a wheelchair in front of the Federal Building.
My son would always be with me 'cause we didn't have any money for babysitters or anything. And so he'd be sitting on my lap and I'd have a gray wig on and somebody dressed like a police officer would [mime hitting me] with a baton. And I'd have this sign saying "I'm a medical marijuana patient!"
Besides activism, ASA also worked with early medical cannabis dispensaries to promote sound business and ethics. California voters had legalized medical cannabis with proposition 215 in 1996, but as Speciale explains, "There [were] no guidelines for us and so we would try to figure out: what's the best way to pay our taxes? What's the best way to ensure people are registered medical marijuana patients?"
Aundre Speciale by Shalom Ormsby in Spring 2019
This activism and outreach lead Speciale to open her own legal cannabis dispensaries. "We always told our people that every day you open the door, you're participating in civil disobedience. And it's the ultimate protest against the government: opening the door and serving the patients." To Speciale, this kind of activism could ultimately lead to positive community relations. "Part of the activism was to open and operate well and pay your taxes, and be a good neighbor and be a good business."
After an initial experience working with Health and Wellness Alternatives in San Francisco in 2004, Speciale set about opening Capitol Wellness Collective in Sacramento in 2005. Finding a building was a major challenge, since few landlords wanted to host tenants that could be readily raided by law enforcement. Capitol Wellness ended up across the street from the freeway next door to a vacant lot filled with trash, and first thing they did was to clean up the block.
In 2003, the California state senate passed SB420 to clarify medical cannabis rules. The law declared that medical cannabis "collectives" serving patients must be nonprofit, but didn't specify many other operating strictures. So, Speciale and her team identified a building next door that could serve as a community center. "The rule I wrote is that we're a private membership collective and the fee to join was that you had to volunteer… or to even take a class." They found retired people to teach life skills to young folks. They found people to mow the lawns of elderly neighbors. They planted flowers in the area. As stated in an article from 2010 in the Sacramento News Review, Capitol Wellness offered yoga (daily), tai chi, massage, cooking classes, fitness, spiritual, and life counseling. They had a chess club, book exchange, art therapy, veterans group, gardening, HIV/AIDS support group, guitar lessons, and "the ever-popular 420 bingo." They had an apartment there and hosted people coming into Sacramento for cancer treatments. Aundre says, "It was a place of comfort, and cannabis was just part of it."
Speciale ran her dispensaries her way, at a time when there weren't a lot of women in the business. "It was a very masculine feel and so I really wanted to have a really female feel, like a motherly feel where everybody is welcome." Speciale says she filled her office with pillows. "People that wanted to come and do business with me would have to take off their shoes and come and sit on my silk pillows and talk business. A lot of times people would come in a little heavy or with an attitude: 'Yeah, I got the goods' and you'd get them to take their shoes off and the next thing you know, sitting on the silk pillows, these big, mountain men, sipping tea with their pinkies up."
During our interview, Speciale repeats the phrase "Love is the best business model." She remembers appreciative customers coming in to Capitol Wellness and saying to her "Man, the place down the street costs exactly the same and they don't do shit for anybody." Speciale cold-called the Sacramento Police Department and invited them to come in for a tour. They were able to show how the dispensary had helped to clean up the neighborhood. "It really started an amazing relationship with the government that we fostered." Speciale reports this helped her continue her work around the state, replicating the model to help open and operate numerous dispensaries: Health and Wellness Alternatives (San Francisco) 2004, Capitol Wellness (Sacramento) 2004, Venice Beach Wellness Collective (Los Angeles) 2006, Abatin (Sacramento) 2007, Tahoe Wellness Collective (South Lake Tahoe) 2009, Cannabis Buyers Club Berkeley "CBCB" 2007, Phytologie (Oakland) 2012.
Speciale was eager to expand, but the threat of federal and local law enforcement made for challenging work. She lived in Berkeley and commuted to Sacramento to protect her child. "[At that time], Sacramento Child Protective Services had a rule that if you are even a medical marijuana patient, that was grounds to lose your kids." In the Bay area, Child Protective Services didn't have the same rules.
Now her two kids are grown and the cannabis business has evolved. With a spark in her eye and a lift in her voice, Speciale explains that she's taken up branding, leveraging her decades of experience and connections to bring together top growers and manufacturers. Her first big brand is called Specialé. "Everything from the packaging on the outside, to the flowers on the inside: everything is special." Her team sells product that won the Emerald Cup best in show, plus they have pioneered a number of remarkably high CBD strains, offering what Speciale refers to as "functional flower"—so you can smoke, find relief and still focus.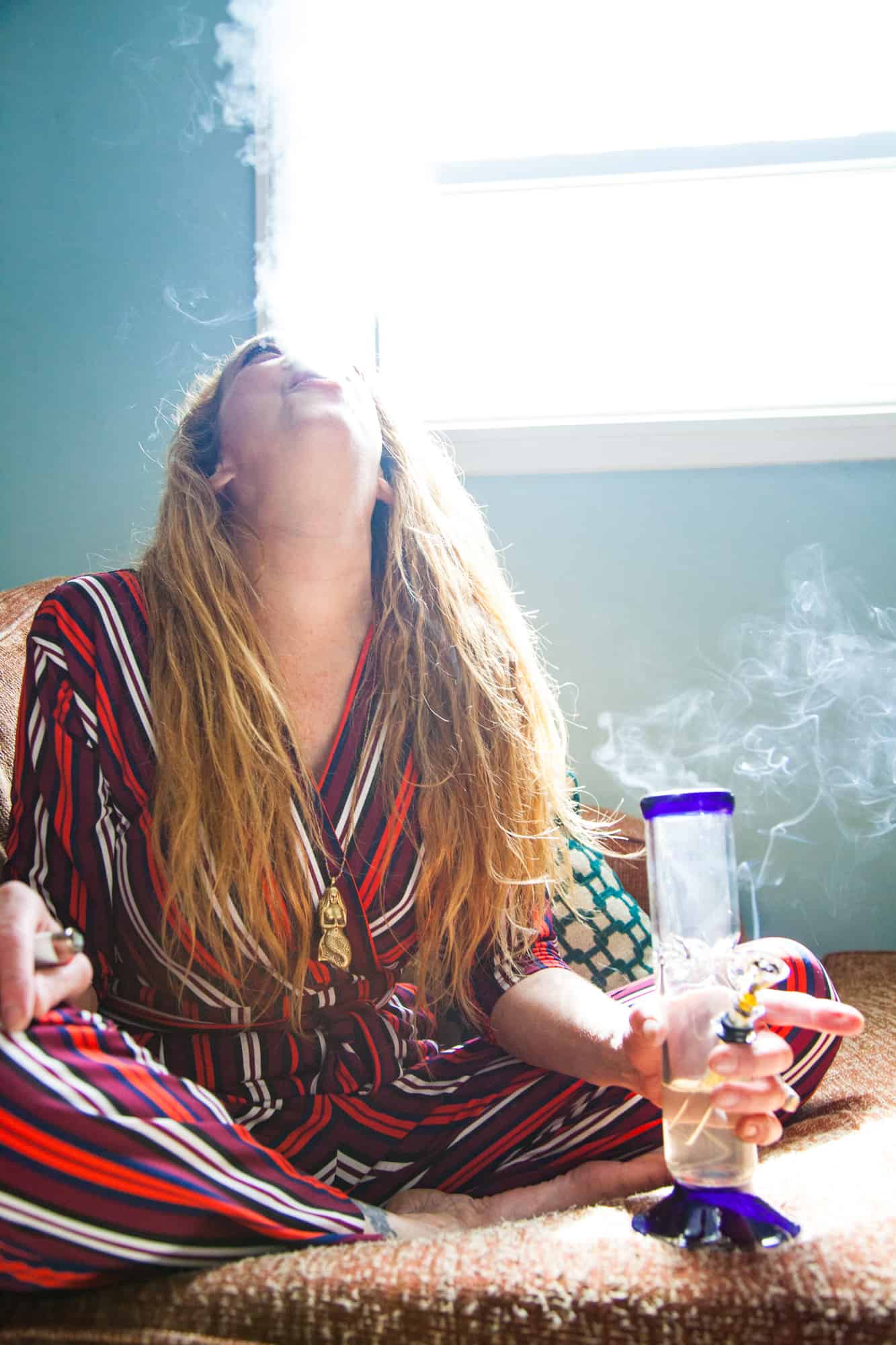 Aundre Speciale by Shalom Ormsby in Spring 2019
Aundre remembers debates from Jack Herer's bus:
People would say, 'Well, what if you legalize it and RJ Reynolds [the tobacco giant] takes over or something,' or kind of what's happening now, all the big companies, and we'd think, 'God, it'd be horrible, but probably the most important thing is let's just get cannabis. As long as it's clean, pure, good cannabis, let's get that in everybody's bodies and minds and then we can all talk about social policy.' And I see it now, and it's just so wonderful to see everybody everywhere, embracing this natural plant.
Today recreational legalization in California means that it's actually harder to be a non-profit, community-oriented cannabis business. The dispensaries Speciale has run have changed: "CBCB was familiar & friendly, it was small enough, we had classes, you could smoke there, it was a true community center." What's changed? She says, "[We] got busier, but also the city outlawed smoking [on premises] and that really takes away that community aspect."
While full state-level legalization has brought on a new set of challenges, it has expanded the consumer base: Speciale says when she first opened her dispensary, only about 10% of the customers were women. "I think a big part is because there was a lot more shame for mothers and people were afraid to get their kids taken away, and now it's really close to 50/50, which is a wonderful thing."
For all the regulation, commercialization and challenges of operating in this new commercialized environment, Aundre is ultimately awed by this moment: "When I was on the bus with Jack, this literally was a dream: that someday it'll be normalized and it'll be in stores, and it'll be available everywhere and grandmas will be using it and you know, and here we are. It's really cool."