Before the cannabis industry, there was the cannabis community, and the community was built on the backs of doctors, medical cannabis patients, and the activists that supported their fight for alternative medicine. Without scientific research and harm reduction advocates, cannabis would not have become the booming industry it is today, nor would this plant have helped so many patients as it slowly becomes legal and accessible around the world. Read up on these inspiring leaders in cannabis–and follow in their footsteps if you can!
1. The Godfather of THC: Dr. Raphael Mechoulam
Dr. Raphael Mecholaum, the renowned and award-winning Bulgarian-born Israeli scientist, is famous for dedicating his life to studying cannabis compounds. His cannabinoid experiments began in the 1960's, making him widely recognized as one of the greatest cannabinoid scientists and a pioneer of revolutionary cannabis research. Dr. Mechoulam's discovery of tetrahydrocannabinol (THC) led to the discovery of the endocannabinoid system (ECS).
In 2019, Dr. Raphael Mecholaum revealed his latest discovery, cannabidiolic acid methyl ester (EPM301), a consistent source for researching new cannabis therapies, and recently found a way to stabilize other cannabis compounds–a godsend for the medical community researching conditions potentially treated with cannabis. Dr. Mechoulam has published over 350 scientific articles primarily focused on the chemistry and pharmacology of cannabinoids and has changed the way many people think about cannabis and the medical revolution.
Dr. Raphael Mecholaum passed away on March 9, 2023, at 92 years old–a sad day for the medical cannabis and science communities, who have benefited considerably and will continue to benefit from his life's work.
2. Cannabis Scholar and Advocate: Dr. Lester Grinspoon
Dr. Lester Grinspoon, a psychiatrist and associate professor of psychiatry at Harvard Medical School, is famous for his works on the science and social policy of psychedelics, cannabis, and other drugs. He originally believed that cannabis was dangerous, until his friend and colleague Dr. Sagan managed to convince him otherwise.
Dr. Grinspoon's research found cannabis to be less toxic or addictive than alcohol or tobacco, and he then became a leading supporter and advocate of legalization and in changing harmful drug policies in the late 1960s. Dr. Grinspoon passed away in 2020 but will always be remembered for his extensive research and as a trailblazer for cannabis legalization. Dr. Lester Grinspoon served on the advisory board for the legalization group NORML up until his death, and there is now a Lifetime Achievement Award in his honor.
3. The Father of Medical Marijuana: Dennis Peron
Dennis Peron was an American activist and the co-author of the United States' first medical cannabis proposal: California Proposition 215, leading to a successful campaign to legalize the medical use of cannabis in California. Peron openly sold marijuana in San Francisco in the 1970's before becoming a leader in the marijuana movement for legalization in the 1990s.
The AIDS epidemic transformed Peron into a political activist for medical cannabis after losing his lover, Jonathan West, to the horrible disease. When Peron realized the healing power of cannabis for AIDS patients, he became an advocate for medical cannabis and later received formal recognition from the San Francisco Board of Supervisors for his activism. Dennis Peron passed away in 2018, but his legacy lives on, as the medical cannabis industry would not be where it is today without his push and resilience.
4. Pot for the Patients: Brownie Mary
Brownie Mary was an American cannabis activist and one of the reasons you can get medical cannabis today. After her daughter's tragic death in the 70s, Mary began selling pot brownies as a side business. At first, she would sell to anyone who was interested – but that resulted in getting arrested. At that time, it is estimated that she sold around 600 brownies a week, $20 a dozen. After her first arrest, Mary was sentenced to 500 hours of community service, which she completed at one of the very first AIDS organizations, the Shanti Project. That experience was the inspiration for Brownies Mary's future activism.
During the AIDS epidemic, thousands of young people were dying for an unknown reason. Cannabis is known to increase appetite, which helps AIDS patients with "wasting syndrome" as well as nausea from the medication. From the years 1984-1990, Mary made around 1,500 brownies a month, using her social security cheques to get ingredients, and anonymously donated cannabis from local dealers. Mary was arrested twice in total for cannabis related crimes. In 1992, she appeared in court at the age of 70, and was charged for a much more severe charge–felony transport–luckily, all the charges were dismissed. That same year, Mary stood in front of the San Francisco Board of Supervisors and argued the medicinal value of cannabis, which led the board's decision to make arresting medicinal cannabis providers a "low priority." In 1992, August 25th, was voted as "Brownie Mary Day" and still celebrated today.
5. Leader in Cannabis Medical Science: Dr. Sue Sisley
Dr. Sue Sisley, psychiatrist and leader in the field of cannabis science, educates other doctors on the benefits of cannabis to fight its associated stigmas. Dr. Sisley is known for her research regarding the medical uses of cannabis and its potential as a treatment for patients suffering from PTSD and chronic pain.
Dr. Sue Sisley has been fighting for over a decade to push cannabis through the FDA drug development process and into the legal market to treat chronic pain and PTSD and to make medical cannabis treatment accessible for patients. Dr. Sisley is recognized as a trailblazer in the cannabis science and medical field as he continues to prove the medical benefits and legitimacy of cannabis.
6. Emperor of Hemp: Jack Herer
Jack Herer, an American cannabis rights activist, is considered to be the father of the marijuana legalization movement by many as well as one of the greatest heroes in cannabis history. Herer is the author of The Emperor Wears No Clothes, which criticized the US government policy on cannabis and sparked the legalization movement. Herer traveled across the country to fight for the legalization of cannabis and helped to pioneer an array of hemp-based products, many which can be found in stores today.
Herer was such a dedicated activist that even though he didn't expect to win, he ran for president twice to bring attention to his cannabis advocacy and legalization. His commitment to cannabis advocacy has paved the way towards legalization and his book is still quoted to this day. Herer passed away in 2010, but his legacy lives on through the famous cannabis strain named in his honor.
7. Political Pot Powerhouse: Wanda James
Wanada James has broken barriers in the cannabis industry, becoming the first black woman to own a marijuana dispensary in the United States. James has been on the frontlines of the marijuana movement for the past decade and is one of the most widely respected leaders in cannabis today. She continues to work on expanding the legalization and decriminalization of both medical and recreational cannabis use.
James' younger brother was arrested for the possession of marijuana as a teenager, which inspired her to work on getting sentences dropped for people in jail for cannabis possession. Not only is she an extremely successful entrepreneur, but she also has a strong political background as a campaign manager, having worked on the 2008 National Finance Committee for former President Barack Obama. Wanda James has since graced the covers of many magazines and appeared on numerous television shows, and continues to be a warrior for social justice and cannabis reform.
8. Grandmother of Marijuana: Fernanda de la Figuera
Fernanda de la Figuera is known as "Abuela Marijuana" or the "weed grandmother" of Spain and is a veteran in advocacy. She has been a cannabis grower and activist since 1973 and continues to fight the battle for legalization and reform in Spain. She founded the Ramón Santos de Andalucía Association, dedicated to studying cannabis, and became the first woman in Spain to lead an association.
Fernanda started Marías x María, a cannabis social club to help women access a safe supply of medical cannabis. Fernanda was charged for trafficking and sentenced to nine months in prison, even though she had a plant cultivation permit and insisted she did not do anything illegal as the plants were only for the members. Fernanda hopes that fighting this charge will be one more step towards the acceptance of cannabis in Spain.
9. Weed MC: Gilbert Anthony Milam Jr AKA Berner
Gilbert Anthony Milam Jr is better known by his stage name, Berner. A rapper and entrepreneur, he's released more than 40 albums, many reaching the top Hip-Hop & R&B charts – but that's not his only claim to fame. He got his start working as a budtender at a medical cannabis dispensary in San Francisco. While working at a dispensary in the San Francisco's Richmond District, he began publishing his music and cultivating a Bay Area-based following. Using his street cred, he masterfully wove his Cookies Fam and ultimately the Cookies brand into his music and created a sprawling weed empire.
Berner is credited with building multiple successful companies across the cannabis industry, and is best known as CEO and cofounder of Cookies. Cookies started as a clothing and lifestyle brand in San Francisco, and now has dozens of dispensaries across the U.S. and cities like Tel Aviv, Barcelona, and Bangkok. The brand is also associated with dozens the famed cannabis cultivars, like Girl Scout Cookies, London Pound Cake, and Gary Payton. Today, Cookies is estimated to be worth over $1 billion, and widely acknowledged as the most recognized brand in Cannabis.
10. A Champion for Compassion: Aundre Speciale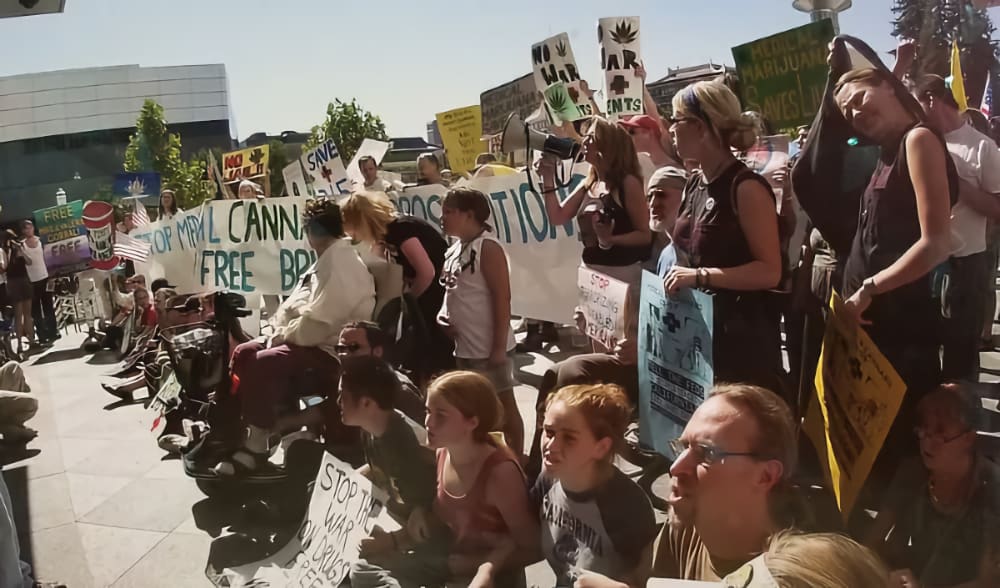 Aundre Speciale is a cannabis activist who toured the US, advocating for cannabis reform alongside Jack Herer on the famed Hemp Tour in 1990. She is a founding member and chapter coordinator of Americans for Safe Access, the nation's leading medical cannabis patient advocacy organization, where Aundre developed and initiated its popular peer counseling program to gather data for lawsuits protecting expanding patient's rights and providing best practice training for early industry operators. Aundre also served on the board of Marijuana Policy Project, a group leading the effort in Washington DC to replace marijuana probation with the system of sensible regulation in control for three years, holding the vice chair position.
Through her activism, and consultation of early medical cannabis retailers, Speciale noticed a lack of compassion and community-centric programs offered by early operators. She opened her first dispensary in Sacramento in 2004, where impoverished patients with AIDS and other debilitating conditions had no access to a cannabis compassion program at the time. Aundre, a single mother who grew up in group home, opened Capitol Wellness alongside a community center which included dozens of services such as meals, resume assistance, haircuts, and child care. She also funded a preschool for children of homeless parents working with Loaves and Fishes (homeless center in Sacramento). The goodwill she built manifested into a wildly successful business which landed her in the crosshairs of the DEA - Aundre was raided twice, yet in face of a potential Federal life sentence, continued opening some of the first medical cannabis clubs across California including Lake Tahoe, Venice Beach, San Francisco, and Berkeley, where today she runs the iconic Cannabis Buyers Club of Berkeley, with her daughter Electra, a second generation operator. CBCB has been operating since 1996 making it one of the first medical shops in the Country. We interviewed Aundre Speciale.
In 2014, the City of Berkeley adopted the Nation's first mandatory compassion program at Speciale's urging, making it the only City to mandate that at least 2% of Sales go to qualifying compassion patients.
We love to shine a light on incredible cannabis activists around the world – did we miss some? Let us know and we'll be sure to shine a light when opportunities arise!